So I realized that I CAN'T move. This blog has some sort of uhmm... sentimental value. (I knooow. EEEEWW. But whatev. It's sorta that way. Hahaha) so I decided to keep this and then have an alternate page instead.

No, it won't be a secret blog but I'm planning to post there the ubershort entries like the (non-sense) random quotes I just made or whatever one-liners I have in mind. Oh and vids and photos are easier to upload there too!! Sooooo.. you get the point, right?

But as I've said, I'ma put entries there first. It's still darn empty. Hahaha. And I'm havin a hard time with the html codes. (I like CSS better. That's why I heart Blogdrive. Aww.. Hahaha)

And it's not a blog. It's a tumblelog! (Try Google. I'm not in the mood for a looong explanation.
)


* * * * *


Oh and I still haven't updated THIS blog's sidebar. Shocker. I sooo NEED to update that. Esp the "pevorits" part. Hahaha.. Sheesh. When did I put those?? Aeons ago??



* * * * *


Regarding the review, I got 84% of the items correct with the last exam. Yey! That means I got 152/180. Hahaha. Okay, I can skip a few days again. Haha. Lazy girl.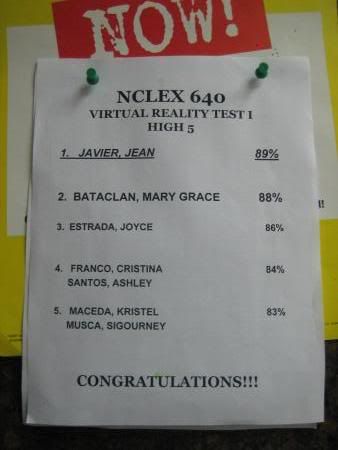 *ahem*


TECHNIQUE: they usually get questions from the questionnaire booklets. Meaning, I have been through with most of the items. The question and the answers are exactly the same. (Andayaaaaa) Hahaha. It's STRATEGY.
Kiddin.

We're all doing the same thing.

Hahaha.


* * * * *


Today, I've been to Jenny's mother's wake and I saw my old friends from freshie year. It was nice to see them again and hang-out. But it's sad though that this is the only time that we were able to reunite.

(Jen, Condolences to you and your family
)

And guys, I missed you. Hope to hang-out with you again in another set-up. Just like the old days...




Sheesh.

When did I become so cheesy?? I think I'll have to track down what I type now. And this blog is the witness to the transformation.

So again, eew. Hahaha.


* * * * *


Tomorrow is Dad's birthday!

Hope you have a great one dad! I have no idea what mom's plans are but sorry.. your daughter's broke. I'ma make it up when I get a job.




Hopefully.

Haha.


* * * * *


Excuse this entry, I'm obviously NOT in the mood for writing. I just had to share.




There goes random queen.



Awt.